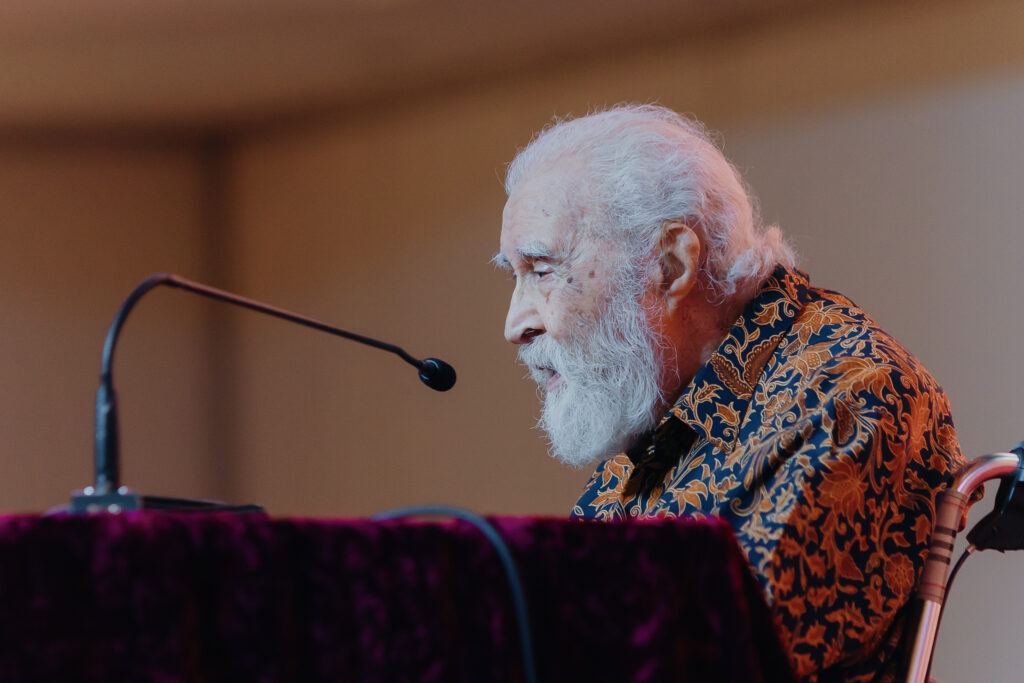 Recently, RZS-CASIS of UTM was honoured to have been given the opportunity to co-organise—together with Ta'dib International Foundation and Raja Zarith Sofiah of Johor Foundation and in partnership with QSR Brands and the World Trade Centre (Kuala Lumpur)—an inaugural lecture by The Honourable Tan Sri Professor Dr Syed Muhammad Naquib al-Attas in conjunction with the launching ceremony of his latest book, Islam: The Covenants Fulfilled. The event was held at Dewan Merdeka, World Trade Centre, Kuala Lumpur on the afternoon of 29th July 2023.
Officiating the event was Her Majesty Raja Zarith Sofiah binti Almarhum Sultan Idris Shah, the Permaisuri of Johor. In her royal address, Her Majesty praised Professor al-Attas for his extensive scholarly achievements in the fields of Islamic thought, history, and civilisation. Her Majesty highlighted how his works have innumerably benefitted Muslims around the world and provided concrete solutions to some of their most notable challenges.
Also in attendance were other royalties—including Her Royal Highness the Raja Puan Besar of Perak, Raja Nazhatul Shima binti Almarhum Sultan Idris Shah and Her Royal Highness the Raja Puan Muda of Perak, Tunku Soraya binti Almarhum Sultan Abdul Halim Mu'adzam Shah—along with high-ranking officials andprominent scholars both local and international. In total, around 1400 people attended physically and hundreds attended online.
In his lecture, Professor al-Attas expounded a couple ofimportant points in his book, Islam: The Covenants Fulfilled. Initially, he explained the subtleties of understanding the relationship between the soul and the body of a human being. He thenelucidated the historical progression of revealed religion culminating in Islam.While the lecture was relatively brief due to time constraint, it was full of insight and inspiration. As the lecture concluded and the Professor descended the stage, he was adoringly received with a standing ovation from the audience.
In the morning of that same day, RZS-CASIS along with the other organisers and partners also organised an international seminar to honour Professor al-Attas for his contribution to contemporary Islamic thought. The panel speakers comprised of illustrious scholars who had worked closely with Professor al-Attas such as Professor Dr Alparslan Açıkgenç, Professor Dr Mehmet İpşirli, Professor Dr Hans Daiber, and Datuk Dr Syed Ali Tawfik al-Attas. The original schedule also included Professor Dr Wan Mohd Nor Wan Daud—whois the holder of the Syed Muhammad Naquib al-Attas Distinguished Chair of Islamic Thought—but, due to health reasons, he was unable to make it.
As a whole, both events were a tremendous success.
Report prepared by Syed Redzuan Alsagoff (research fellow at RZS-CASIS, UTM)
Inaugural Lecture and Book Launch