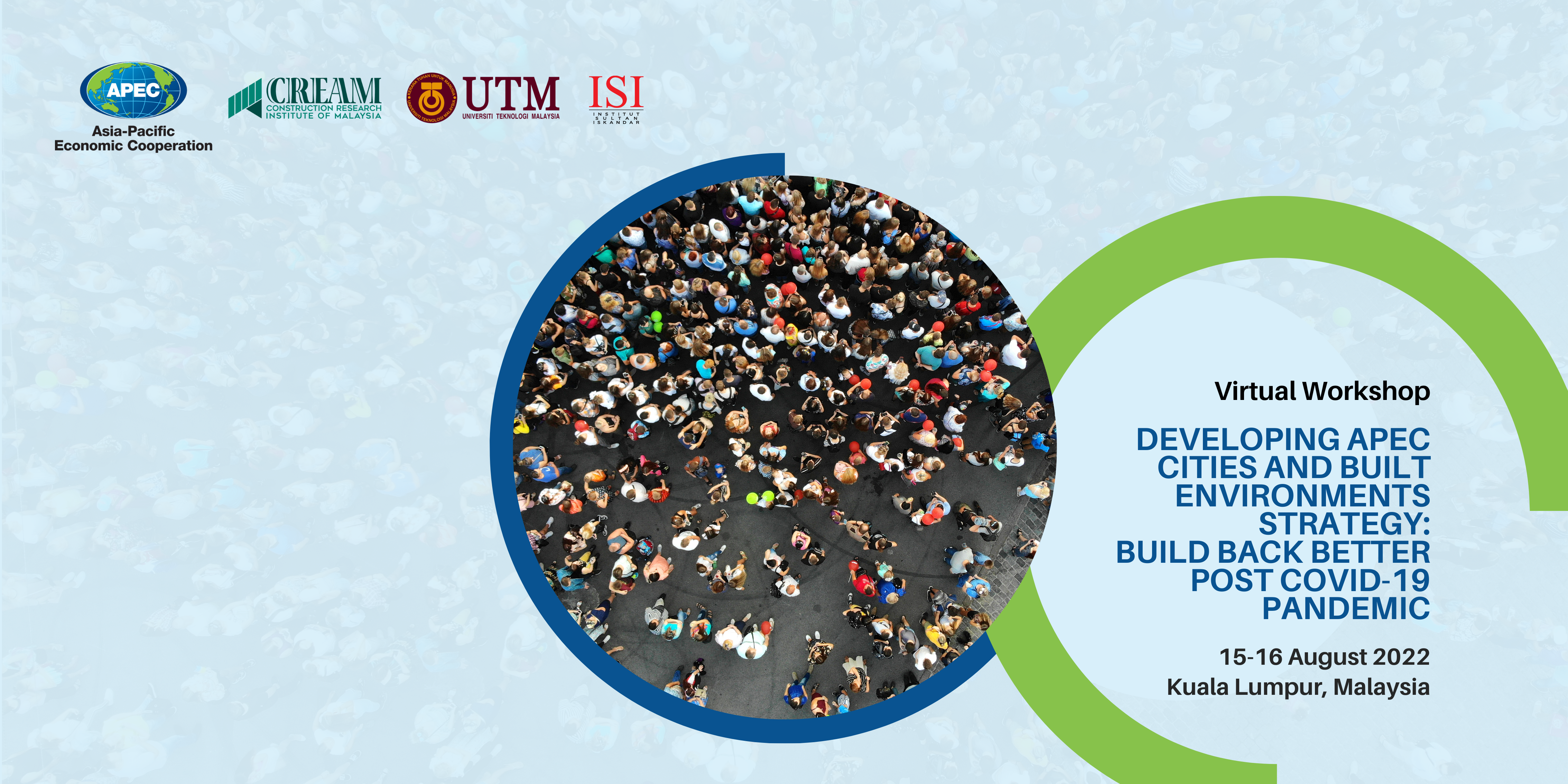 On 15 and 16 August 2022, Institut Sultan Iskandar Kuala Lumpur (ISI KL) and CREAM co-organised a virtual workshop on APEC Cities and Built Environment (BE) Strategy: Building Back Better in the Post COVID-19. The workshop's objectives are 1) to develop strategic recommendations and approaches that will shape urban management and built environments based on an in-depth understanding of cities' issues and challenges during the COVID-19 pandemic; 2) to discuss and refine a detailed strategy on "pandemic-resilient cities and built environments" based on lessons learned or best practises from relevant stakeholders (from different APEC economies). 3) To formulate APEC strategy in creating a multi-stakeholder implementation approach for "pandemic-resilient cities and built environments".
Dato' Ts. Dr. Gerald Sundaraj, Chief Executive Officer, CEO of CREAM, delivered the opening remark for this workshop, while the welcoming statement was made by Prof. Syed Ahmad Iskandar Syed Ariffin. The two invited keynote speakers for the event are Mr. Mohd Faizal Abd Hamid (National Disaster Agency Malaysia) and Ms. Gita Yulianti Suwandi (BPNB, Indonesia). Two forums were held on Day 1 of the virtual workshop. Forum 1 was moderated by Prof. Dr Shuhana Shamsuddin, an adjunct professor at the Razak Faculty of Technology and Informatics, UTM. She is also the president of the Malaysian Urban Design Association (PEREKABANDAR). Forum 1 discussed the "Multi-stakeholders Collaboration Towards Pandemic Resilient Cities and Built Environments." The four invited expert panellists for Forum 1 are Dr Chee Ping Ngang (Director of Corporate Division, PLANMalaysia), Assoc. Prof. LAr. Dr Mohd Ramzi Mohd Hussain (Director, Office of Occupational Safety and Health in the Built Environment, IIUM), Mr. Ahmad Farhan ROslan from CREAM and Dr Khairul Hisyam Kamarudin, senior lecturer in the Faculty of Built Environment and Surveying, Universiti Teknologi Malaysia (UTM). Forum 2 continued in the afternoon session with the topic "Best Practices and Lessons from the Coronavirus." Again, four expert panels, Ms Alexandra O'Mara (Australia), Dr Santy Paullaa Dewi (UNDIP, Indonesia), Dr Mohd Rizal Osman (URBANICE, Malaysia) and Dr Wan Nurul Mardiah Wan Mohd Rani (Institut Sultan Iskandar, UTM) gathered to deliberate on the topic.

Day Two of the event is the workshop, attended by participants from Chile, Australia, Indonesia and Malaysia. The workshop focused on tracking and analysing the critical factors and trend spotting and imagining and deciding the scenarios as the participants identified the critical factors on the first day. This session facilitated the building of scenarios, comparing the scenarios, and evaluating the expected consequences of the scenarios. After the workshop, researchers reiterate and finalise the scenarios and define the strategies based on the analysed and presented scenarios. The ability to share these relevant data with all participants makes this workshop an excellent collaboration platform. The event ended with participants responding to the post-event survey.